Our baby girl arrived!
Eliza Moran Barnes was born Tuesday, November 10, 2009 at 10:18 pm.
This wasn't what was planned, but God had big things in store for us & we're very grateful!
I had started feeling bad & on Tuesday it became worse. I called & made an appointment w/ Dr W my family Dr. My appointment time was 4:30. Once I arrived & gave the nurse my symptoms (congestion, cough, body aches) & that I was 37 1/2 weeks pregnant! Dr W called my OB b/c he felt I needed to be at Labor & Delivery for a checkup, so they could monitor the baby as well.
I went home, so Danny could take me to the hospital & we made arrangements for Davis. Luckily, we grabbed the camera as we were pulling out of the driveway.
Once we arrived at the hospital, they started testing me for H1N1. I tested negative, so they wanted to run a full blood count to find out what was going on with me. While the nurses scrambled around to relieve my aches, I started having contractions.
We had a November 20 c-section scheduled, but our baby girl had different plans. While waiting on test results I went into labor!
The nurse announced "We're having a baby tonight" & started prepping Danny & me for surgery!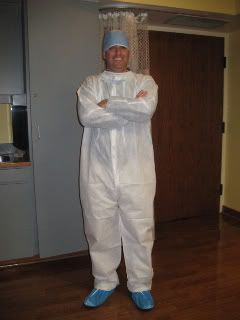 At 10:18 pm Eliza Moran Barnes was born!
She weighs 7 pounds & 9 oz. She is 19 inches long & so absolutely beautiful. She has a head full of black hair!